Tomatin Church
Formely in the parish of Moy, Dalarossie & Tomatin
Now closed
Church of Scotland

The Churches of Strathnairn and Strathdearn

Interim Moderator the Rev Robert E Brookes
News Update
At present, while we're not able to meet for our normal services and activities, Moy, Dalarossie & Tomatin Parish Church folks are being encouraged to read Psalm 121 and say The Lord's Prayer at 11 am every day and if you'd like to join in with this at home, too – that would be great! The more prayer the better at this worrying time.
In addition to Rev Robert's Sunday Sermons, we're also offering some additional music, readings and prayers to reflect upon during the Coronavirus Epidemic, which we hope folks may find comforting. As well as some more music, readings and prayers for more general consideration at this time when we're not able to hold our usual Services and Prayer Meetings, etc.
And if we can help you with anything else – even if it's just a chat about anything you want to talk about – could be anything from religion to Coronation Street and anything in between – do get in touch with us. We love chatting!
If you're worried about someone or something, we'd be happy to pray for whoever or whatever is on your mind – with total confidentiality guaranteed, of course. Or if you wanted to share any stories from lockdown, or tips on how to survive self-isolation, these could be e-mailed round-robin style (I haven't the brains to do a blog, and everyone's not on facebook anyway!) And if you need help typing your story – phone me and tell me what you want to say and I'll type it up for you and e-mail it round to anyone who would like this.
If you're trying to keep wee ones busy at home just now, Messy Church nationally has committed to providing a weekly Messy Church at home session until at least the end of June, for local Messy Church groups to e-mail out to anyone who is interested.
So, to arrange a chat or a prayer, or to request an e-mailed copy of Rev Robert's Sermons or the music, readings and prayers, or any tips or stories by e-mail – just phone or text me on 07887 704 915 – or e-mail me and in the meantime – stay safe!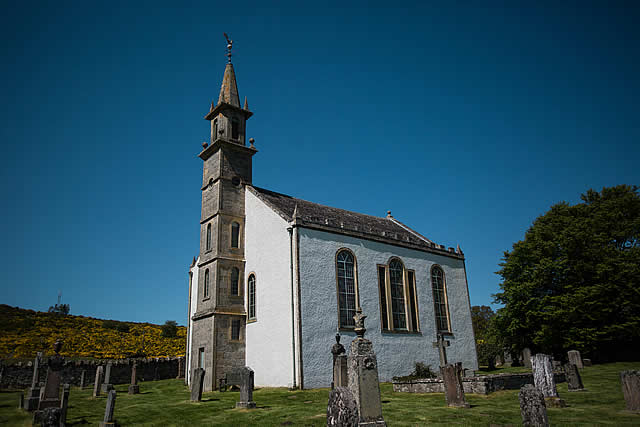 The Church of Daviot was granted its charter in the 13th century as a mensal kirk for Elgin Cathederal and the Abbey of Pluscarden.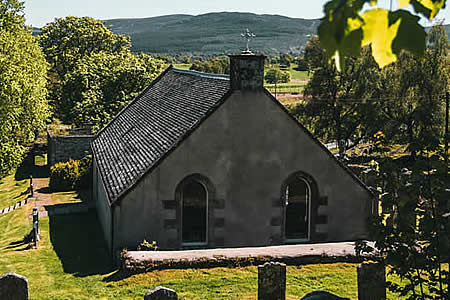 Of old 'Lundichity' dedicated to St Finan.On a very ancient site. It is believed that St Finan preached here.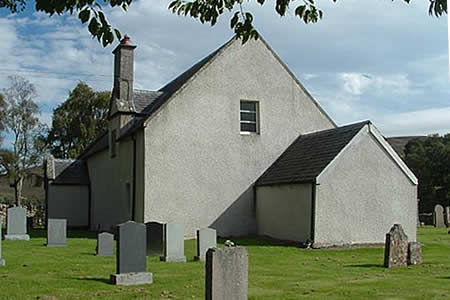 Built on the site of an 8th century church, Dalarossie is said to be derived from the Gaelic 'Dail Fhearguis'.
The Parish of Daviot & Dunlichity
The Church of Daviot was granted its charter in the 13th century as a mensal kirk for Elgin Cathedral and the Abbey of Pluscarden. The original church may have been built about the time of the reformation. A later church was certainly built in 1763-4 although no trace remains. The present church dates from 1826 and was completely restored in 1991.
Dunlichity Church is on a very ancient site. It is believed that St Finan preached here. In 1643 an effigy of St Finan was taken from Dunlichity and burnt at the Mercat Cross in Inverness. The present church dates from 1758 and is situated beside a small hillock, locally known for generations as Cnoc an t'Saigart, the 'Priest's Hillock'. Dunlichity church was closed for worship in 2019.
The Parish of Moy, Dalarossie & Tomatin
The Parish of Moy, Dalarossie & Tomatin in Strathdearn is a rural community with a population of approximately 630. Most people live in Tomatin, 16 miles from Inverness. The village is set at the southern extreme of the Presbytery, in the Monadhliath mountains.
The village of Tomatin is three miles from Slochd Summit and 1,000 feet above sea level, and is about a 20 minute drive on the A9 from both Inverness  to the north and Aviemore to the south.
Of the three Churches we used to have in the Parish our only remaining Church is Dalarossie, 3 miles upstream from Bridgend on old A9.
We who are part of the Churches of Strathnairn and Strathdearn see the church family as one where all are welcome….a refuge for all, a spiritual family who gather throughout the week…we like to think we do not judge another person because of their race , sexual orientation or beliefs. We accept all in the name of our Lord Jesus Christ and try to follow the Word of God living out the gospel within our Church and community to the best we can. Our expectations are that God is at the fore front of our lives and when we offer the right hand of fellowship and peace, it is given freely, we pray it is received in the manner it's offered.
We know we are not perfect and that we can at times get things wrong….yet we believe in forgiving, accepting one another and looking towards the future through the life of Our Lord Jesus Christ where all are welcome and and the stranger will find a seat at the Lords Table.
As the hymnals words ring out, "All are welcome in this place..let us build a house where love can dwell and all can safely live, a place where saints and children tell how hearts learn to forgive: built of hopes and dreams and visions, rock of faith and vaults of grace…
We believe it is here where the love of Christ shall end divisions, All are welcome, all are welcome, all are welcome in this holy place".
This is where we worship God not just within a building, it is throughout our daily lives singing his praise freely without fear. We as a congregation say to all who are visiting, come to our safe haven, where you can express your faith, in a way that one can smile and laugh joyfully worshiping God and where you will find a warm welcome…. "And now these three remain: faith, hope and love. But the greatest of these is love". All are welcome in this place.
God bless. Rev. Robert E Brookes.